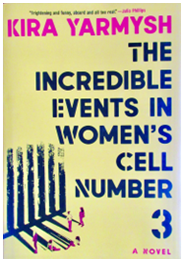 Kira Yarmysh

The Incredible Events
in Women's Cell Number 3
Translated by Arch Tait

Grove (US), Serpent's Tail (UK)
2023

Hardback $27, £16.99

Order from Blackwell's (UK) HERE
or Barnes & Noble USA HERE

ISBN 9780802160737 (USA)
9781800817531 (UK)
eISBN 9781800817548
374 pages

Winner of a PEN Translates award
In a large barren room furnished only with communal bunkbeds, Anya meets her cellmates: five ordinary Russian women arrested on petty charges. They come from all strata of Russian society, and as they pass the long hours waiting to be released they slowly build trust and companionship while sipping lukewarm tea from plastic cups and playing games. Above all, they talk: about politics, feminism, their families, their sexualities, and hKira Yarmyshow to make the most of prison life. Yet as the waking days stretch listlessly before Anya, she is plagued by strange nightmarish visions and begins to wonder if her cellmates might not actually be as ordinary as they seem. Will the face of everyday life ultimately crack for good?